Kiviks Museum is Österlens oldest museum!
…and we are open for bookings all year round!
Kivik's Museum 130 year!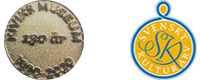 Heritage Card is valid here – half the price of admission fee!
Show your card at checkout before redeeming entrance.
The audio guides, slideshows, movies, photographs and maps, and with closer 5000 appliances from the Stone Age to the Present We narrate the life of Ahus. Here, for example, you will find out more about fishing and shipping from when Kivik was one of Sweden's largest shipping societies, how the poor peasant life could create a breeding ground for entrepreneurship and Sweden's Apple Kingdom, and how Scandinavia's largest market has its roots in a trading network of the Bronze Age mysterious Kivik tomb and the fabled Iron Age Maletofta…
You are welcome to visit our large research archive of images, maps, films and archives from the Kivik area. We offer tours of the museum and historical tours of Kivik with different themes and with coffee included! Contact us for more information and prices! After your visit, feel free to relax with a cup of coffee, ice cream, beverages or homemade cookies in our café, and the museum shop is always some exciting book or souvenir.
It is at Kivik's Museum it happens – welcome!
In the museum shop you can pay securely by credit card!
We use iZettle's card reader and receive most credit- cards.
Be local!
Your entrance ticket is a valuable document! Hand in your entrance ticket from the museum and get 10 % off your next purchase at ICA Supermarket Kivik. Applies to all customers. Of course, every time you buy an entrance to the Museum, you get a valuable document – that each time 10 % gives you 10 % off at ICA Supermarket Kivik!
Interact with us!
We cooperate with the Adult Education Association and are happy to create courses, workshops and inspiration occasions both for you as a member of the association and for those visiting this historic site. Welcome to contact us about anything from an idea to a finished draft!